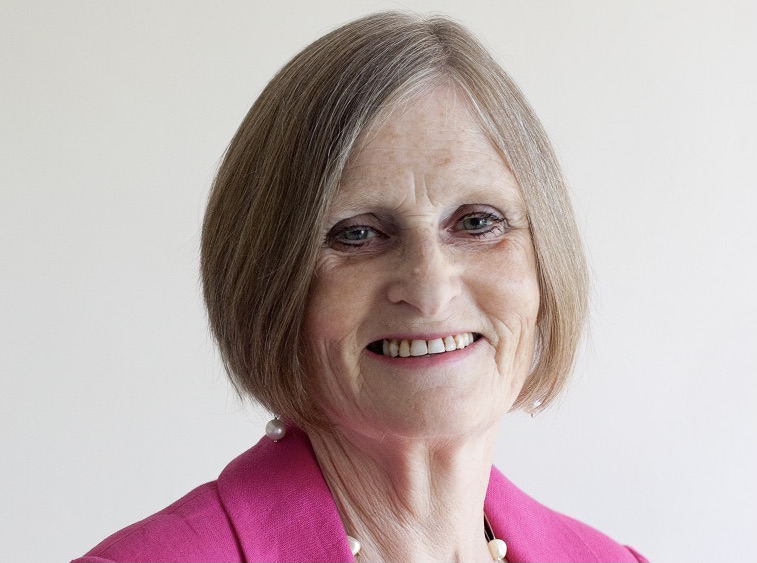 Professor Bridget Shield, who retired from LSBU in 2014 after almost 30 years' teaching at the School of the Built Environment and Architecture, co-founded the Women in Engineering Centre at the University and was course director of the MSc in Environmental and Architectural Acoustics for many years. In 2021 she was awarded an MBE in the Queen's Birthday Honours for her "services to Acoustic Science and to inclusion in Science and Engineering". We were very pleased to be able to ask Professor Shield some questions about her career, her time at LSBU and about women in engineering.
Can you tell us a bit about your background and why you came to LSBU? 
I graduated in Pure Mathematics at Birmingham University in 1968. In 1971 I got a post as a research assistant at Bristol University, contributing to a computer simulation of office buildings. After getting married and moving back to Birmingham in 1972, I eventually got another research post in computer simulation, at Birmingham University. This time the simulation (or modelling as it is termed today) was of the behaviour of sound in factory buildings. The research was linked to the introduction of the Health and Safety at Work etc Act as there was growing concern about the risk of noise induced hearing loss caused by industrial noise, so the ultimate purpose of the simulation was to predict noise levels in factories. As I knew nothing about sound and its behaviour (I had dropped out of O level Physics) I read up what I could about it and did some short courses in Acoustics. I found it a fascinating subject. My first child was born during the project, and I was the first person ever to ask for maternity leave from the university as the legislation had only just been passed (no one knew what to do!). I was given the then statutory 3 months leave. I eventually obtained a PhD for the work, which was awarded when I was 8 months pregnant with my third child. By this time we had moved from Birmingham to Berkshire and I worked as a part time tutor and tutor counsellor in Mathematics with the Open University. One of my responsibilities was tutoring inmates of Broadmoor, which was interesting. Eventually we settled in south-east London, and when my fourth child was 1 year old, I was offered a part time lecturing post in Mathematics at Thames Polytechnic (now Greenwich University). However, I hoped to return to acoustics one day. I knew that there was an Acoustics Group at South Bank Polytechnic, so when my contract at Thames Poly ended I wrote to them to ask if there was a possibility of any work. As a result I was offered a temporary, one year post, which I started in September 1986. I retired from London South Bank University nearly 30 years later!  
How and why did the Women in Engineering Centre come about?
When I joined the Polytechnic in 1986, Professor Agnes Kaposi was head of the Electrical Engineering department and Alan Maddaford was the Dean of Engineering.  Both were very supportive and encouraging of women in engineering, and several women were appointed to lecturing posts, particularly in electrical engineering. One of them, Mary Ayre, had set up the Women in Engineering (WIE) group, with Alan's support. I joined the group, which organised various conferences, meetings and events to support women staff at the Polytechnic, and encourage women and girls to consider engineering as a career. When Mary Ayre left the Polytechnic, Linda Edwards-Shea and I became joint chairs of the group. Mary and Alan had secured funding from the Inner London Education Authority to support WIE initiatives. Linda and I decided to use the funding to set up a Women in Engineering Centre at the Polytechnic; this was to be a national resource to provide careers advice and mentoring for women who wanted to pursue a career in Engineering. We appointed Kate Viscardi as the coordinator of the Centre, which had a dedicated office in the Technopark. The Centre was opened by Joanna Foster, the chair of the Equal Opportunities Commission, on November 4th, 1988.
Did you face any particular challenges around people's expectations? (Give that some people still consider engineering subjects an unusual choice for women)
I can't pretend there weren't difficulties in the first half of my career at South Bank. The Acoustics Group, of which I was a member, and eventually head, was always part of a larger engineering department. For some years the department was very male dominated, the male staff having little experience of working with women, which led to some social and professional difficulties. The Acoustics world was also very male dominated. In my early career I was often the only woman at meeting and conferences. I was elected to the Institute of Acoustics (IOA) Council in the early 1990s and was, I believe, the first female Council member. At one of my first Council meetings the IOA Code of Conduct for members was being discussed. The pronoun used throughout the code was 'he'. I suggested that when it was rewritten 'he' might be changed to 's/he' or 'they', or something similar. I was staggered at the response – there was uproar with people making comments such as 'I suppose you don't like manhole covers being called manhole covers' etc etc! At the time I found it very intimidating and didn't dare say another word in a meeting for many months afterwards. Needless to say the culture at both the university and in the IOA has changed since that time so that, hopefully, young women entering an academic or professional engineering career no longer have to encounter such attitudes.  
You were the first female President of the Institute of Acoustics, did that make it feel like it came with additional responsibilities?
I was delighted to be elected as the first woman President of the Institute of Acoustics, and hope to be the first of many. I have tried to support and encourage younger women to take an active role in the Institute. When I became President I was keen to increase diversity in the Institute. I set up a working group to examine various issues concerning (mainly) women members, particularly those with children and/or other caring responsibilities. A particular worry is the loss of members after taking a career break; there is a need to develop support mechanisms such as flexibility in working patterns, mentoring and refresher courses to encourage people to return to acoustics after a break. I am very pleased that two years after my presidency a second woman was elected as President. I am also delighted to see how the number of women in the IOA has increased over the years. Women nowadays take a very active role within the Institute, currently making up one third of Council members, chairing several IOA committees and leading STEM initiatives.
Given that a lot of your research has looked at how noise affects us, can you tell us a little about how you think acoustics and engineering relate to other disciplines and the wider world?
For me, one of the main attractions of acoustics is its links and interactions with other disciplines. Examples include: psychology (how people react to sound); music (design of musical instruments, designing concert halls to create optimal conditions for different kinds of music); architecture (design of buildings where the acoustic environment is important eg schools, concert halls, churches, railway stations); zoology (effects of noise on animals on land and under water); and audiology (effects of noise on hearing). The same is of course true of many other branches of engineering. Most of my own research has concerned the effects of noise on people, for example annoyance caused to local residents by noise of the (then) newly opened Docklands Light Railway and the effects of noise on patients in hospital. For the past 20 years my main area of research has been examining how noise and poor acoustic design affect pupils and teachers in primary and secondary schools. This work has been carried out in collaboration with an educational psychologist, Professor Julie Dockrell of the Institute of Education. I have found working with specialists from another discipline very interesting and very rewarding.  
Do you think that engineering has changed for women in the time you've been involved with it? What are the biggest changes you've seen?
The increased numbers of women in engineering professions and general changes in legislation and attitudes mean that engineering is no longer seen as a 'men only' profession, a common view in the past. I believe attitudes of young women themselves have changed. When my daughters were at school it didn't occur to them and their friends that some subjects or jobs might not be suitable for them, just because they were girls. I have seen very significant changes in the culture of the UK acoustics profession as more women have entered it and are now taking leading roles in their companies and in professional bodies. There is a self confidence about many of the young women who are active in acoustics today. I have been very lucky in having some very bright and highly motivated women researchers at LSBU, who have been a pleasure to work with; some of them have gone on to have very successful careers in acoustics. Nationally there has been increased visibility of female engineers in recent years, for example on posters advertising engineering companies and in television programmes about engineering projects.
What changes would you like to see happen in the future?
I hope that the changes that I have seen in my lifetime will continue, with increasing uptake of engineering careers by women. In my own field I would like to see the numbers of women in the Institute of Acoustics continue to increase and to see 50% of the IOA Council made up of women, with more women in IOA executive roles. The problems concerning the low retention of women in acoustics careers, especially following a career break, need to be addressed. Consideration needs to be given to ways in which companies operate, in terms of flexible working patterns, part time employment, help with child care and so on, so that young women can more easily combine a career with family life. The professional institutions should also provide support in terms of mentoring and refresher courses for returners.  
How do you think more women can be encouraged into engineering and related subjects?
It is important to encourage and inform young people about the possibility of careers in engineering. This should start in primary schools, and continue in secondary schools and colleges, with visits and demonstrations to illustrate the variety of subjects and interesting careers that are available to them. School visits to companies and universities should also be encouraged. Role models are also very important so the visibility of women working in engineering should be increased in the media. This should become more feasible as the number of women working in engineering gradually increases, and more women take on senior roles.