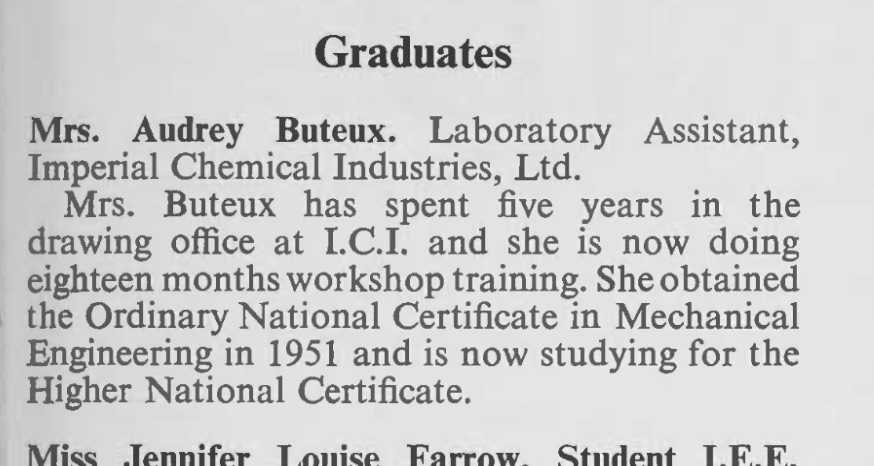 Audrey Buteux started taking courses at the Borough Polytechnic in 1948-49, studying Mechanical Engineering, Engineering Drawing and Workshop Technology. She was 20 years old and, somewhat unusually, recently married when she started her studies. Her second year was part of her studies for the Ordinary National Certificate in Mechanical Engineering, and covered Applied Mechanics, Applied Heat, Workshop Technology and Mathematics, subject developed further the following year when she completed the certificate.
Audrey joined the Women's Engineering Society in 1952, which helps to trace her further career as there are updates in the WES journal, The Woman Engineer. In Spring 1953* she was working as a Lab Assistant in the Drawing Office at ICI and was doing an 18 month workshop training programme. She continued to study at the Borough Polytechnic, achieving her Higher National Certificate in Mechanical Engineering in 1953. That course included Industrial Administration, Mechanical engineering,Applied Thermodynamics and Internal Combustion Engineering and Audrey was often the only woman studying in the department. Of the 6 women taking engineering subjects in 1952-53 the other 5 were all studying Electrical Engineering. Throughout her years of study at the Borough Polytechnic, the only time Audrey was not the sole woman in her class was in her first year. She was only the second woman to gain her ONC in Mechanical Engineering at the Polytechnic, and the third would not be until 1955. By 1954 Audrey had gained a further endorsement in Internal Combustion Engineering. The Woman Engineer update from members in Winter 1954 not only reported her endorsement but also that she had had a daughter. She later had more children and it seems likely that she stopped working, as there are no more updates in the Women's Engineering Society records. This highlights some of the difficulties women in engineering (and other industries) faced at that time, as society expectations were often that women would stay home with their children and childcare wasn't always available. This, in turn, led to these women leaving the industry despite promising careers. *The Woman Engineer, Spring 1953, Vol 7. The Journal is available
online
via the Institution of Engineering and Technology Archives.